Theft Nation: Signed Hard Copy
This report comes in hard copy, signed by the author. It is insulated in a felt case suitable for both laptops and tablets, and ships in a signature engraved FiReBooks pine box.
=============================
Theft Nation is "the best available description of the Chinese national business model and its effect on the global economy," according to a top official at the US Department of Justice.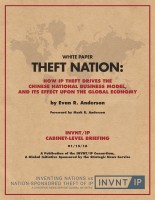 Few countries today have the all-encompassing influence of the People's Republic of China. China is now the world's second-largest economy; the effects of policy and production in the "Middle Kingdom" ripple across the globe, affecting domestic outcomes in every nation. To know China is to know the future of global economics. The Strategic News Service (SNS), INVNT/IP, and FiReBooks are proud to present the seminal work on China's economy: Theft Nation: How IP Theft Drives the Chinese National Business Model, and Its Effect Upon the Global Economy.
Through careful analysis of banking, currency, trade, and other economic policies in the PRC, Theft Nation exposes a massive system of fraud and intellectual property (IP) theft which threatens the stability of the current global system of trade and commerce. This work is a synthesis of data and reports from sources around the world, aggregated and analyzed to reveal the often-secret underlying strategies that fuel the Chinese economy. This is the only work that successfully explains the foundations of the PRC's modern approach to growth, economics, and trade.
After months of confidential circulation among the world's top security personnel, cabinet members, and economic influencers, this report is now being made available to the public. In an era increasingly defined by economic fluctuations spreading worldwide from China, Theft Nation provides the information that decision-makers need to answer some of the greatest questions of our time: How does China make money? What is next for China and its trading partners? And, most important: What does this mean for you, your family, your business, and your country?
=============================
"The issues that Theft Nation deals with will shape not just the business environment of today and tomorrow, but also literally geopolitics itself. They cut across everything from the competitiveness of individual firms to the future of both China and the US. It is a core matter that the [INVNT/IP] Consortium has taken on. Well done!" – P.W. Singer, Strategist and Sr. Fellow, New America Foundation; and Author of Ghost Fleet: A Novel of the Next World War and Cybersecurity and Cyberwar: What Everyone Needs to Know
"Brilliant work." – Richard Marshall, CEO, XSES; former Director, Global Cyber Security Management, National Cyber Security Division, Department of Homeland Security (DHS), by special arrangement between the Director, National Security Agency (DIRNSA), and the Secretary of DHS
Additional information
| | |
| --- | --- |
| Weight | 3 oz |
| Dimensions | 9 × 12 × .5 in |